ANY flooring made into custom STAIR NOSINGS, VENTS, TRANSITIONS, POSTS and RAILINGS.



Supplying Toronto & Hamilton since 1999
Bring us your vinyl and hardwood flooring and we will make: stair nosings, vents, posts and railings. You supply us with the floor boards, we don't stock any material.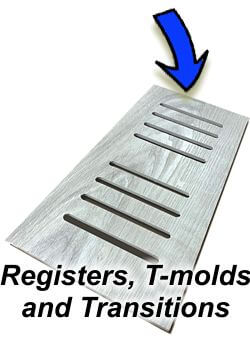 We can form stair nosing's, transitions, t-molds and registers out of ANY vinyl plank, engineered, laminate and hardwood flooring. Finally your stairs and registers can match the rest of your floors. With our in-house fabrication process we will cut, melt, bend and bond your planks into whatever you need. We do not stock planks, instead they're made from your flooring. Drop off your planks or have them picked up by us.
Our custom stair nosings lay over existing stairs and get fastened down with adhesive and finishing nails. Fill in the rest of the tread by clicking a board into the back of the nosing. Very simple installation. Our custom transitions can be formed to any height, any width and with a t-mold. Fasten transitions down with adhesive and finishing nails. We also do custom floor registers out of any material. Our engineered, laminate and hardwood registers float flush with the rest of the floor. They must be installed when the floor is installed. The vinyl plank floor registers we make sit ontop and can be added anytime. All our registers are tested to withstand 250 lbs of pressure. Any floorboards will work. No planks are too thin. Stone core, PVC core, rigid core or loose lay vinyl flooring are all good. Engineered, laminate and hardwood are all good. Just get them to us and we'll take care of the rest. Click on the flyer below for more details.
Click here for price-list / order form
Hardwood floor registers

We can make floor registers out of your hardwood, engineered and laminate boards. Our hardwood floor registers sit flush and are installed with the floor. 3 x 10 and 4 x 10 registers available with dampers. Custom cold air return vents available too. We do it all!

Vinyl plank floor registers

Bring us your vinyl for floor registers. They can be installed anytime and just drop-in like a standard floor vent. Our vinyl floor registers sit on top of the floor by 1/8" and match the rest of your floor because it's made from your floor. 3 x 10 and 4 x 10 with dampers and custom floor registers too.
Vinyl plank open stairs

Our custom vinyl open stairs often are the only solution for your treads. If you want your stairs to match the rest of your flooring this is it. We are the only company that does this, we invented the process. Only available in vinyl, LVP and LVT.
Hardwood newel posts

Hardwood open stairs

Railings, posts and stairs
Click here for price-list / order form
Dealers wanted, Full-time sales reps wanted.
Servicing Toronto & Hamilton Ontario
1-866-888-3815